Discover
our rooms
A poetic touch...
A short stroll from the Place Saint-Georges, in a bustling district of Paris, halfway between the Opéra Garnier and Montmartre, the Hotel Arvor offers 30 rooms and suites on five floors. They feature tranquillity, excellent services, unique decor, antique furniture, and private bathrooms. Some also offer a magnificent view over the rooftops of Paris or of the Eiffel Tower. In each, Nina Koltchitskaia has brought her poetic visual touch to an original fresco, a painting or a detail highlighting the general aesthetics and atmosphere of the room. Equipped with top-of-the-range bedding, the rooms range from classic to family suites.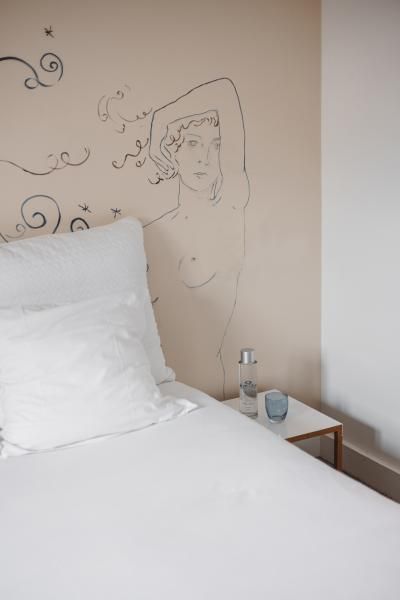 Classic Room
Equipped with a large double bed and a private bathroom with bathtub, the classic rooms of the Hotel Arvor offer you peace and space. The soft colours, the delightful touch of Nina Koltchitskaia and the carefully chosen furniture create a relaxing setting in which you will immediately feel at home. You will find various amenities awaiting you, ranging from a safe to a hairdryer, not forgetting brand name toiletries, a flat-screen TV, mineral water and chocolates to welcome you.
Superior Room
Spacious and bright, our Superior rooms are havens of serenity and well-being. Some command an iconic view over the rooftops of Paris while others overlook the Eiffel Tower. You will have a large bed (160 cm or 180 cm) or two single beds, as well as a private bathroom with bath or shower. Every detail has been carefully considered for your comfort, from the chocolates and mineral water that await you on arrival to the high-speed Wi-Fi, the toiletries in the bathroom and the room service. Make yourself comfortable!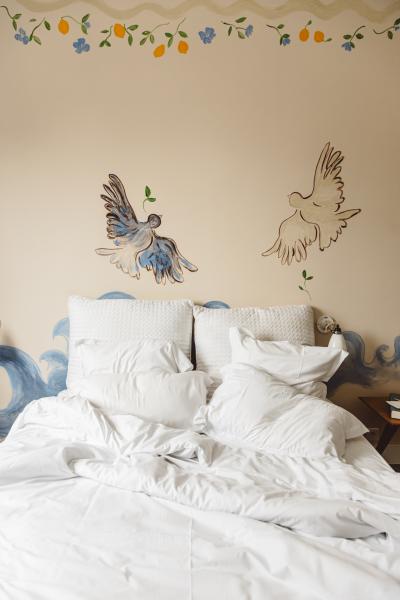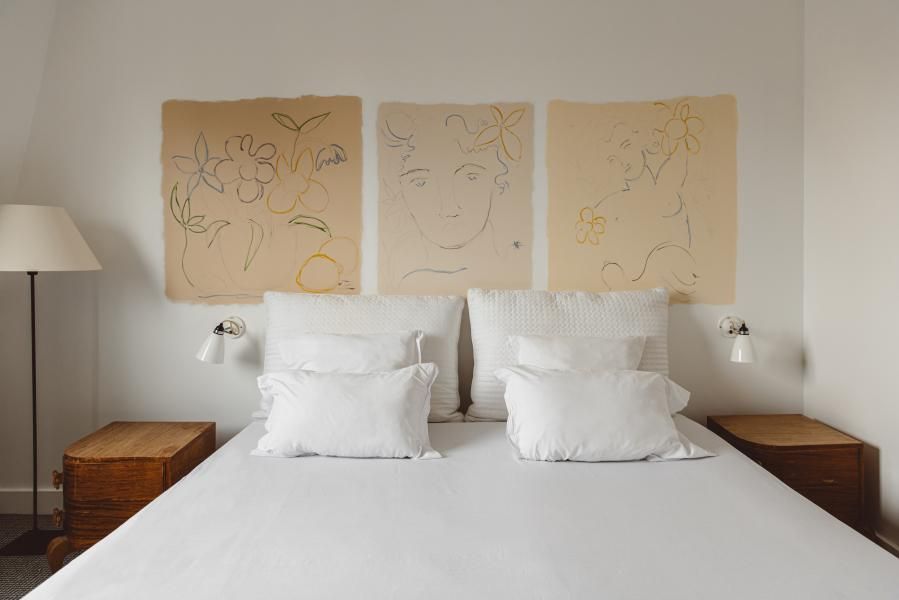 Deluxe Room
Spacious, commanding an exceptional view over the rooftops of Paris or the Eiffel Tower, and having a warm, welcoming and unique atmosphere created by Nina Koltchitskaia, the Deluxe room is a true haven of calm and fine facilities. From the bathroom with bathtub to the large 160 cm double bed, every detail has been carefully considered for your comfort and well-being. A true cozy pied-à-terre with Paris at your feet.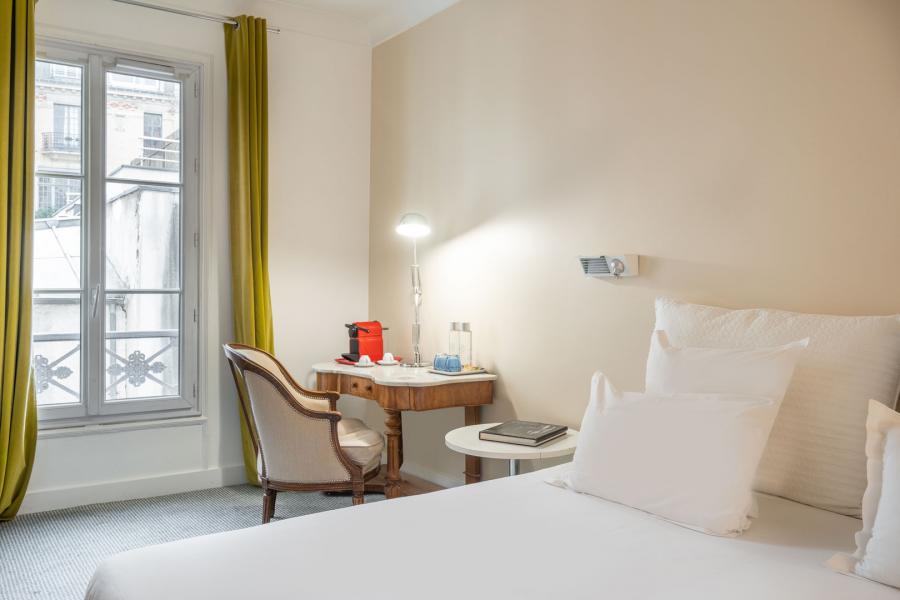 Family Room 3 people
Paris with the family is more than a party, it's an adventure! So that you and your loved ones can enjoy complete privacy, our family suites offer all the comfort and space you'll need. Space to create a family retreat in which to spend special moments or have a laugh with a game borrowed from reception. Our family suites have two bedrooms, one with a large double bed, the other with a single bed, and a private bathroom. Wi-Fi, flat-screen TV, hospitality products and toiletries complete the facilities.
Family room 4 people
Ensure the intimacy of the family cocoon with our suites for 4 people. Everyone can also enjoy their own independence when they wish thanks to the two bedrooms, one with a large double bed and the other with bunk beds. With a generous area of 35 m², equipped with a private bathroom and decorated with a fresco or a painting by Nina Koltchitskaia, they also have all the amenities essential to your comfort. Enjoy breakfast with your family in your room's comfortable surroundings while savouring the view of the rooftops of Paris!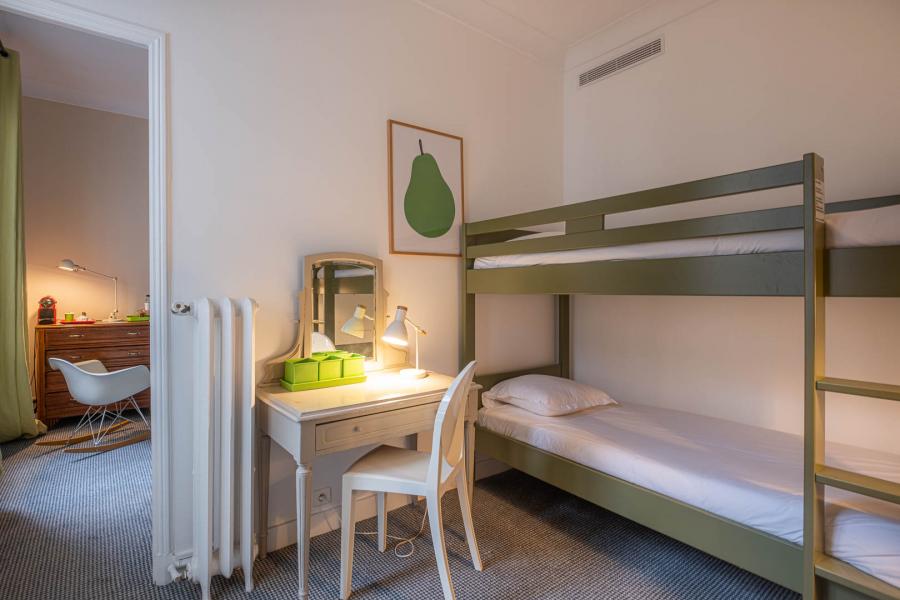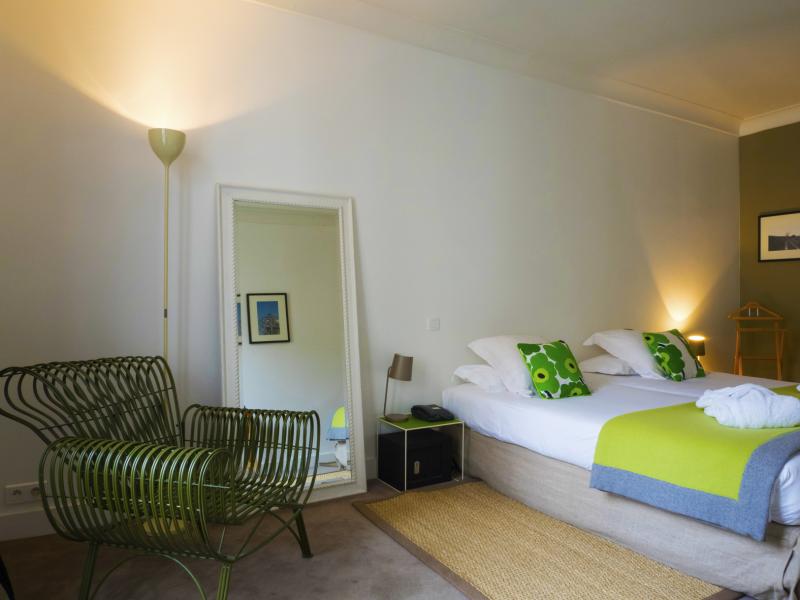 Nina Suite
There's great vibes in this spacious suite! It was here that Nina Koltchitskaia set up her studio during lockdown and began to draw inspiration from the positive ambiance of the hotel. This suite is more spacious than the others. Plenty of natural light, a large bathroom with bathtub, and a unique fresco by the artist covering seven metres of wall all add up to an exceptional setting in this suite that boasts a view of the rooftops of Paris. Find inspiration in the Nina Suite, a place imbued with the spirit of the artist.
Services and amenities
Luggage storage 24/7
Room Service
Daily newspapers
Free Wi-Fi
Television
Air conditioning
Safe
Breakfast available in the room
Soundproofed windows
Radio
Wake-up service
Hairdryer